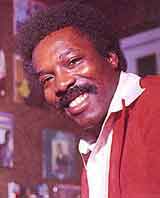 Wilson Pickett - Get Me Back On Time (Engine Number 9 pts 1&2)
Wilson Pickett - Funky Broadway
First of, thanks to
Soul Sides
for including me in their round up of recommended blogs, nice to be appreciated.
Today I'm looking at one of the greats of funk, Wilson Pickett. I'm sure most people know about his classics
Mustang Sally
and
In The Midnight Hour
but today I'm going to take you into the later stages of his career and a real heavy funk classic,
Get Me Back On Time (Engine Number 9 pts 1&2)
from 1970. You can read a full biography of the man
here
.
What really gets me about this track is the way it slowly builds up from a slow funk groove over Wilson's traditional heartfelt cries and growls to something altogether more epic. The track really gets going for me about 3 minutes in when the organ backing kicks in, from then on Wilson limits himself to the occasional vocal grunt and lets the keyboard, bongos and guitar do the talking. Absolutely awesome.
I've also included one of Wilson's more famous tracks,
Funky Broadway
, for you to listen to. It's a more standard funk track and has particularly decent horns. There, don't say I never do anything for you. Both tracks are available on his best of compilation which is available
HERE
.
Regarding files being in m4a/aac instead of mp3 you should be able to play them with most music software (they definitely work in realplayer) but I'll try to post mp3s only from now on.