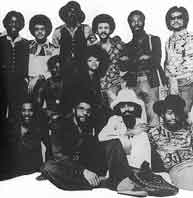 Those crazy cats
The New Birth - Got To Be A Knutt
Melvin Bliss - Synthetic Substitution
Well It's back to the sampled songs today. Soul Sides post the other day featuring a De La remix has made me delay my planned De La post for a while. Therefore let me offer instead two songs that were used by Prince Paul in his glory days with the group.
Got To Be A Knutt by The New Birth
is an excellent funky number which was sampled by Prince Paul for two tracks on
Three Feet High And Rising
. You'll recognise the horns from
Can You Keep A Secret
and the cry of "This is a recording" from, unsurprisingly,
This Is A Recording
.
The great thing about this record is that it more than stands on it's own two feet and after a few listens manages to get you to ignore the sampled areas, a problem that so often kills a sampled track (I can't begin to list the number of songs that I have difficulty listening to due to their subsequent heavy sampling).
The song is without a doubt totally insane, but if you haven't heard it yet, you need to download this asap. These guys are definitely having a good time and it translates straight onto the recording. Definitely one of the best party funk songs i;ve heard. You can get a "Best Of" album pretty
cheap
. Well worth checking out.
The second song,
Synthetic Substitution by Melvin Bliss
, is one that I now find almost impossible to distinguish from it's abuse in samples. Seriously, I reckon it's been sampled in over a 100 hip hop songs. Prince Paul used it for De La three times, probably most recognisably on
Potholes in My Lawn
. It's a decent seventies soul song made most noticeable by it's hypnotic piano beats and the fact that Melvin is singing about a post apocalyptic nightmare future where robots have replaced women as the sexual partner of choice. Melvin also sounds like he's singing from inside a drain but I've never been able to work out if the effect is intentional or not.
Apologies about the poor quality of text today, no sleep is damaging my brain and hurting the back of my eyes.
A good night's sleep tonight should mean that we'll get properly up tempo again tomorrow as we roll towards the weekend. Also, if anyone can give me tips on a good place to host these files instead of using You Send It then please
email me